September 2020 Newsletter + A Reality Check + Zoom Track Meetings for GGN Members (from anywhere!)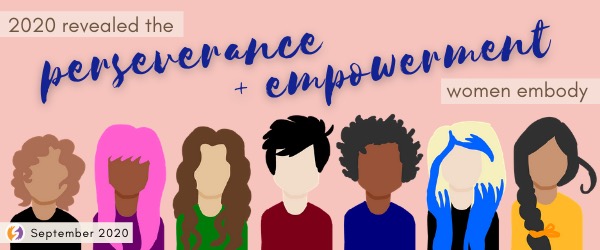 Margery's Note....
Moving forward: a Reality Check
Who are we today and who do we want to be tomorrow?
For me, the overriding aspect of this crazy, difficult and challenging year has been the indomitable, unbreakable power of women.
We are watching a mixed race (Black and South Asian) woman run for Vice President of the US.
We are witnessing Black women stand up and speak up about racial injustice and actually be heard and their stories put into the news. And white women are learning about how to truly support this effort instead of being unconsciously complicit with unjust systems of oppression.
I spent most of last Thursday crying. It started when I saw Jacob Blake's sister say to the world that she isn't crying, she is angry that Black men have been the target of violence for centuries. I felt so sad, I felt so ashamed that I live in a country that tolerates this.
I went from that moment to a Zoom meeting with people from around the world who are practicing the art of dialogue. We started it by all saying how we were feeling, and I told the truth, and started to cry. Instead of it being a disruption, it opened up a really heartfelt conversation helping white people, especially from Europe, to understand what the oppression of Black people in the US really looks like. Where it comes from. Why it is still happening.
We have so much to learn from each other, and I'm so grateful that I keep learning about ways I can try to do something about the systems that are broken and hurting people. For me, it isn't enough to just take care of myself. I do that, but I also want the opportunity to speak up and work to help others understand why we need to help each other–build communities that serve, not live in fear that by doing so we lose anything.
When a large percentage of our population live in poverty and fear for their lives, then we all lose. I believe that women are the backbone of all communities. And when we stand together, support each other, speak out for each other, build and support sustainable businesses, we have a much greater chance of seeing the world we live in become more humane and tolerant.
Who are we ?
▪ We are diverse women who believe in equal justice for all
▪ We are a source of comfort and strength for each other
▪ We are unafraid to speak up and speak out
▪ We are women who are willing to challenge the status quo
We make a difference by living honorable lives, by not tolerating racist, oppressive institutions that keep people from living fully. We make a difference by thinking about whom we hire, whom we vote for, whom we give credence to. We make a difference by VOTING, by CARING, by LISTENING!
▪ We can demand that unreasonable force is stopped and prosecuted.
▪ We can stop putting up with racist language, behavior and the perpetuation of glass and concrete ceilings in our work places.
▪ We can encourage every woman we know to love herself, stand up for herself and let her know we are there to support her.
---
Member Thoughts, Ideas & Recommendations
I keep using this picture because these women represent the soul of GGN, such wonderful faces to see!!!
---
GGN Member Laura Kopec shares:
Hawthorn MHNE program graduate Laura Kopec has created a thriving practice for herself after graduating in 2013. Although what appeared to be successes did not always work out, Laura's education with Hawthorn University and the MHNE program, combined with her passion and resiliency, allowed her to find confidence and put herself out there as an educator and expert in her field.
Hawthorn All About Alumni Webinar Series presents The Long and Windy Road – How Resiliency Led the Way with Laura Kopec, NDT, MHNE, MA, CNC, Wednesday, September 2nd, 2020 at 12 PM Pacific.
The event is a live webinar. For more information Click here to RSVP
---
Margery shares a quote from Ursula Le Guin (October 21, 1929 – January 22, 2018), an American author best known for her works of speculative fiction, including science fiction works set in her Hainish universe, and the Earthsea fantasy series.
"In the consciousness-raising days of the second wave of feminism, we made a big deal out of anger, the anger of women. We praised it and cultivated it as a virtue. We learned to boast of being angry, to swagger our rage, to play the Fury.
We were right to do so. We were telling women who believed they should patiently endure insults, injuries, and abuse that they had every reason to be angry. We were rousing people to feel and see injustice, the methodical mistreatment to which women were subjected, the almost universal disrespect of the human rights of women, and to resent and refuse it for themselves and for others. Indignation, forcibly expressed, is an appropriate response to injustice. Indignation draws strength from outrage, and outrage draws strength from rage. There is a time for anger, and that was such a time.
Anger is a useful, perhaps indispensable tool in motivating resistance to injustice. But I think it is a weapon — a tool useful only in combat and self-defense.
Anger points powerfully to the denial of rights, but the exercise of rights can't live and thrive on anger. It lives and thrives on the dogged pursuit of justice.
[…]
Anger continued on past its usefulness becomes unjust, then dangerous. Nursed for its own sake, valued as an end in itself, it loses its goal. It fuels not positive activism but regression, obsession, vengeance, self-righteousness. Corrosive, it feeds off itself, destroying its host in the process."
A century and a half after Walt Whitman admonished that "America, if eligible at all to downfall and ruin, is eligible within herself, not without," Le Guin adds:
"The racism, misogyny, and counter-rationality of the reactionary right in American politics for the last several years is a frightening exhibition of the destructive force of anger deliberately nourished by hate, encouraged to rule thought, invited to control behavior. I hope our republic survives this orgy of self-indulgent rage."
Track Meetings
For now we are still holding our meetings on Zoom. GGN Members from any location are able to attend with no cost! And yes, you can register at the last minute….
Our Track meetings are designed to give us a sacred space to have meaningful, purposeful conversations without fear of being judged or competed with. Only Members can attend. They are amazing experiences, unlike any 'networking meeting' you have ever attended!
GGN members MUST REGISTER to attend these meetings, so just follow the links below! And if you want to learn about us, go ahead and join GGN~~if you decide it isn't for you, we will refund your membership fee!
Each one is an event or happening in itself. Some members come frequently, some come only once in a while. Whenever you attend one, you will find out things you didn't know, connect with women who will challenge and inspire you, and you will leave with some new perspectives.
Parenting: Children, Adult Children, our Parents and Ourselves!
▪ September 2, 2020
▪ 7 to 9 pm
▪ Parenting is an issue for all of us, whether we have children or not! Often, our own parents switch roles and become more like children as they age…. And we are usually the ones who take care of them in one way or another!
This conversation will be fascinating! Led by 4 of our members who are daughters, wives and mothers, we will get perspectives from a variety of ages and experiences:
Torre Capistran is a mother of 2 young children under 6 ~~ she manages working, raising kids and being a part of her extended family. This mom is amazing!
Cecilia Balser Grussendorf is no longer raising children ~~ but for years she has been teaching parenting classes. A true expert in the field!
Phyllis Washington has raised 2 now grown sons who have given her grandchildren ~~ is a seasoned life and business coach who has great insight to offer on this subject.
Christy Kercheville is another mom of 2 sons ~~ who has just recovered from a challenging medical issue.
This conversation will touch on something in your life. Don't miss it!!!
Click here to join us on Zoom
Monday Morning Magic Track
▪ September 14, 2020
▪ 10 to 12 noon
▪ For those who need a Monday kick start, this meeting really does it! It starts off our week with some empathy, some inspiration and a place to share. We consistently end with an appreciation that we have this community!
Click here to join us on Zoom for Monday Magic!
Growth & Transitions Track
▪ September 23, 2020
▪ 7 to 9 pm
▪ Once again, anything goes! It doesn't really matter what we bring up, we get encouraging feedback, wise advice and a general feeling that we are not alone! So helpful! So worthwhile! Join us!
Click here to join us on Zoom at our next Growth & Transitions Track
Additional Monday Morning Magic Track
▪ September 28, 2020
▪ 10 to 12 noon
▪ Last month we only had a couple of women sign up until the day of, then all of a sudden we had 8 women on the call! I had considered discontinuing this session, but we will keep it up as long as we have women who want the connection, the chance to share and keep growing and learning with each other. Joy!
Click here to join us on Zoom for Monday Magic!
---
Join us on Facebook!
We have an open Great Girls Network page which we would love for you to go to and "like" us and "follow us first" to keep up with our events and also perhaps spread the word about our group.
Click here to go directly to our Facebook page to like and follow us first!
Become a Member!
Great Girls Network is our way of being the opposite of the Good Ol' Boys Network (which is still very much alive and well!). Even if you don't participate in Track meetings, your membership gives you a way to support our existence and be a part of a growing group of women who really appreciate each other. And the Trii-Annual Gatherings are unlike any other "networking" event! We know women don't network like men. We want to build relationships, we want deeper, more meaningful connections. That is exactly what GGN provides.
Our membership fee of $50 per year gives you access to our Track Meetings and also contributions to our Newsletter. The fee helps sustain our website, but it also ensures that when you participate in a Track meeting, you will honor the sacredness of the conversations because you are a member.
We created a digital card that helps people understand what they can get from joining GGN so click here to see the card.
Your membership helps give us that foundation, the strength to grow and have an impact on the lives of so many more women.
Great Girls Are Amazing Women!!! Thank You!!!
Hope to see you soon,
Margery Miller, founder Great Girls Network