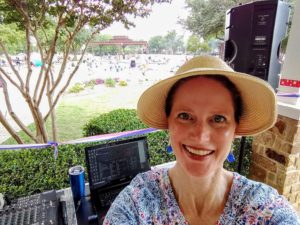 We're so glad that GGN Member Sarah Nejdl decided to have some fun responding to the questions posed in our June Newsletter, Find Your Fun!  It was fun to read her answers!
What does feel like fun to me?
It seems that the word fun is misplaced in the above. I'm assuming it should be What does fun feel like to me? In no particular order, fun is laughter, wine, adventure, stories, experiences, people, exploration, music, sunshine and no deadlines.
Who might be someone I could create some fun with?
Richard Branson. Hands down. He's got an island, likes adventure, good at business and he's just funny. A business leader who's brave enough to wear drag for publicity has my attention!
Have I been spending too much time alone?
Heavens no. I'm fortunate to work around multiple volunteers every day, get out to networking groups with familiar faces, and come home to two teen boys and a loving husband.
Have I been spending too much time with other people and might find alone me more fun?
Now that's a good question. When I'm alone I find myself grabbing my laptop to work on something- anything- that builds Families to Freedom.
What did I do in times past that was fun? Does that still interest me?
Fun for me is travel and being with people. I love to explore new places, meet people with different perspectives and lifestyles, and see the world as being larger than what's in my bubble. I also love attending social events and catching up with acquaintances, friends and neighbors.
Past fun was going to friend's homes to watch movies as a group, play board games, home parties with drinking and music, group movie outings- those days were in my 20's & 30's. Most of those friends are now "grown up" with kids, bigger responsibilities, tighter schedules and no longer feel comfortable goofing off. I'm also in that camp. I think fun evolves and changes as we pass through life. Perhaps one day fun to me will be sitting on the floor with a grandbaby or going on cruises or feeding ducks from a park bench.
What am I waiting for?
Nothing! I have plans to take a one week vacay in The Netherlands next month, three networking events this month, I recently attended a neighborhood party, and I'm doing exactly what I love to do.
Answering this email was a little fun deviation from my other daily tasks. Thank you!  J
Kind regards,
Sarah Nejdl
Founder & Executive Director
Families to Freedom is a 501(c)(3) nonprofit organization
Help Line: 972-885-7020 Mon-Fri 8a – 5p
My Direct Line: 214-707-1813