July 2020 Newsletter + Zoom Track Meetings for GGN Members (from anywhere!) + GGN Members share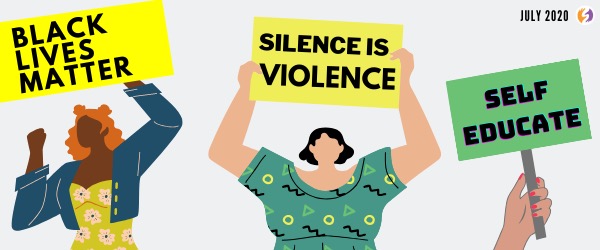 Margery's Note....
The Time Is NOW
We are either part of the problem or part of the solution….
I have a deep, abiding appreciation for all those who have stood up, spoken up and not been willing to let the challenges of dismantling systemic racism go unmet. This is NOT a political issue. This is a humanitarian issue.
It is just not right that:
▪ Economic opportunities are unavailable to ALL citizens of a democracy
▪ People who were brought to this country as slaves were not given the rights and privileges of citizenship once they were freed
▪ Those of us who live unconsciously in white privilege do not take the time to look around and understand how detrimental that status is to those who don't have it
▪ We are considered to be a free country, yet not all of us are truly free
▪ A large part of our population lives with food deserts, inferior housing and lower quality schools with no recourse to remedy the problems
▪ The legal system is out of balance; the same rules do not apply to Black people that white people take for granted; a disproportionate number of Black men are in jail for minor offenses
▪ The atrocities of the Jim Crow era are still being carried out today in different forms
More on our Crucial Conversation….
▪ The items mentioned above are a wake up call for ALL of us!
▪ This is not new, or even worse than before, it is just more evident
▪ If this isn't our problem, whose is it?
▪ If we aren't talking about this, why would we think it would change?
▪ We all need to ask ourselves and each other: what more can we do about this?
My grandparents were Russian Jewish immigrants who made their way in the new world. They chose to come here. Their experience cannot be compared to those who were forced to come here. And to those who say things like, "it happened a long time ago, why don't they get over it" my response is this: We haven't LET them! The system unfair and we all have to face this!
My recent wake up call….
For over 55 years I have been aware of and active in various ways to change this system. It has long felt like an uphill battle. I recently was given the gift of a wake up call to how I am still unconsciously enjoying and being cavalier about my white privilege by saying and doing things that were offensive to people of color. I am reminded of a phrase I learned years ago: "Ignorance is no excuse." My lack of awareness in that situation was not a valid excuse to have behaved in a way that hurt others.
It led me to more study, watching an amazing video, White Fragility featuring Dr. Robin DiAngelo, who has also written a book with the same title.
As horrified and upset as I felt to have inflicted harm on someone I care about deeply, I am even more grateful for the courage my friend had in speaking up. And I'm now seeing this as a focus for the next 20 to 30 years of my life: understanding what I didn't realize and doing something about it.
I also want to share a link to a really important article regarding
The Difference Between First-Degree Racism and Third-Degree Racism.
So, here's my call to action: Don't stop here. Keep this conversation going. Look for ways to make changes TODAY in your life. Listen to yourself. Read more books. Watch the video from above. Think about what you can do differently. Don't expect others to educate you. Educate yourself!
And if you need help getting started, here is a reading list to help you!
GGN Member Pam Hoffmann has written a really good article on this subject, so please see it below….
Member Thoughts, Ideas & Recommendations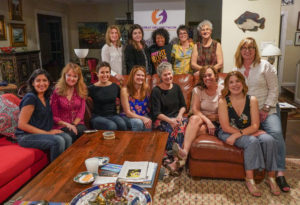 I keep using this picture because these women represent the soul of GGN, such wonderful faces to see!!!
---
GGN Member Pam Hoffmann shares ideas on working from home:
At right is what her current home office looks like! And click here to read her blog on the subject.
In addition, Pam has some thoughts on racism she wants to share:
After spending quite a bit of time in the last few weeks reading materials, watching films and looking inward just want to share two of the many resources that have changed my thinking. First, the documentary 13th and second the book White Fragility by sociologist Robin Diangelo.
Race can be a tender conversation. I avoided having any conversations about racism at all in the past because I thought only "mean and bad" people can participate in racism and so I was not racist so no conversation needed to be had. That has changed for me and my worldview in a few short weeks.
You see I thought I was not a racist because I had a Black son-in-law who I adore, and a mixed race grand baby who is the light of my life. And even though Charles has been in my life for 12 years and I love him as if he were my own son, when I read White Fragility, I had to face my own stuff.
What this book helped me see is that being racist is indeed about the collective white experience in this country, and my job is an internal one. It is simply about my own blind spots and my unconscious bias; it is "ON ME" to identify my patterns of thinking and behaving and then bring them into my conscious mind, and then, only then, can I work to change them.
I am part of a privileged group of people and that is just how I was born in this white skin. I have focused on my individual rights all my life really not realizing that those rights simply do not apply across the board in this country to POC. I see now that I am also part of a group consciousness who hold similar views (albeit unconscious) of white supremacy. I know that sounds strong and might offend, but I really did not understand before doing my research what white supremacy was.
I thought it was awful people wearing hoods who wanted to hurt innocent people. But I have come to realize it is all of us– and I do mean ALL OF US in the white community. I see now it is a system and a construct that seeps into every single aspect of our lives that we really can't see until we can see it. We are all being asked to wake up. And now that I am waking up I must call things out when I see them. For example it is NOT "all lives matter." Not that all lives don't matter. But it is that black lives NEED to MATTER MORE RIGHT NOW to repair the damage of hundreds of years, and so when I see "all lives matter" in print I see why it can be offensive to Black people and to this movement.
There is so much to learn.
Finally If we think racism is about being a bad person it is really hard to look inside and be honest about what we might be thinking and doing that continues to contribute to this problem. I like to think I am a good person. But what I learned is that it is not about being a good person. We can be a very good and loving person and still be racist and participating in white supremacy. I am learning I have a lot of work to do.
---
GGN Member Heather Lisle shares a guide!
She shows you how to successfully lead your organization through uncertain times with a proven 3-P Process. This guide helps you focus on People, Productivity and Passion.
---
GGN Member Nicole Santos shares her webinars and coaching:
Are you a leader or change-maker aspiring to a new role that is meaningful and fulfilling?
Nicole is the Founder of ArtWorks, a creative leadership training company, and is helping leaders and change-makers unleash a creative mindset and discover new professional possibilities. We work together to examine your strengths and where you derive meaning and purpose. We'll use design thinking methodology to define a strategy to identify and seek a role that will bring you joy and fulfillment.
Click here to schedule a free discovery session with Nicole.
---
GGN Member Jaime Meyers announces the fall enrollment for an amazing program for women in the nonprofit and educations sectors:
At the conclusion of the program, participants will report growth in their ability to:
– Authentically and confidently lead at work, within their family,
and community
– Gain clarity and self-awareness
– Understand, value, and positively leverage differences of others
– Optimize performance in organizational systems
– Enhance their network and better support and mentor women
– Become a powerful resource for shared learning in the organization and community
For more information and registration, click here
---
GGN Member Glenna Hecht shares her blog on Reopening After Covid-19
We have all received a flurry of articles offering guidance regarding reopening the workplace after COVID19. Many companies are choosing to maintain complete or partial work from home to ensure the safety and security of their employees. Others have realized that "work from home works", and there is no need for a physical office environment. Others have determined that working in the office is required based on the type of services/business that they perform.
Track Meetings
For now we are still holding our meetings on Zoom. GGN Members from any location are able to attend with no cost!
Our Track meetings are designed to give us a sacred space to have meaningful, purposeful conversations without fear of being judged or competed with. Only Members can attend. They are amazing experiences, unlike any 'networking meeting' you have ever attended!
To register for a Track meeting, log onto our website as a Member.
Each one is an event or happening in itself. Some members come frequently, some come only once in a while. Whenever you attend one, you will find out things you didn't know, connect with women who will challenge and inspire you, and you will leave with some new perspectives.
Racism, Life and Our Relationship to It All
▪ July 1, 2020
▪ 7 to 9 PM
▪ This is a very important Focused Track Meeting! In our recent Track meetings we have consistently shared stories, feelings and ideas about the crisis we are facing in pushing forward changes in how we deal with the racial issues that are destroying lives in America.
Maggie Ong'ele, native of Kenya who is now an American citizen, lawyer, consultant and activist in creating social change both here and in Kenya.We have 3 GGN Members who are going to lead this conversation:
Anastasia Franklin, minister, coach, massage therapist and currently studying for her MS in counseling.
Amy Halman, esthetician, business owner and a clear and conscious voice within our GGN community.
We hope you join us for this conversation and share your experiences with us. Talking about it isn't enough, but nothing happens if we don't keep this conversation going and moving us toward great action.
Monday Morning Magic Track
▪ July 13, 2020
▪ 10 AM to 12 Noon
▪ This group is so popular that we are actually having 2 per month (see below)! During this time of quarantining, difficult life issues, and just general loneliness we are finding great comfort in connecting with each other.
Click here to join us on Zoom for Monday Magic!
Growth & Transitions Track
▪ July 22, 2020
▪ 7 to 9 PM
▪ There is no doubt we are being given myriad opportunities to grow and change at this time! Sharing our experiences and getting feedback from each other makes such a big difference in our lives! Join us!
Click here to join us on Zoom at our next Growth & Transitions Track
Additional Monday Morning Magic Track
▪ July 27, 2020
▪ 10 AM to 12 Noon
▪ This group is so popular that we are actually having 2 per month (see below)! During this time of quarantining, difficult life issues, and just general loneliness we are finding great comfort in connecting with each other.
Click here to join us on Zoom for Monday Magic!
---
Margery's articles for PRiME WOMEN….
Just to let you know, I have published 12+ articles in this online magazine over the past year. The first series of articles focuses on what really works for women–including how to figure out what you want and your life purpose. I recently started a second series on women and business. The magazine has a page for each author, Click here to go to my Author's Page
Check it out and subscribe!!
Join Us on Facebook!
We have an open Great Girls Network page which we would love for you to go to and "like" us and "follow us first" to keep up with our events and also perhaps spread the word about our group.
Click here to go directly to our Facebook page to like and follow us first!
Become a Member!
Great Girls Network is our way of being the opposite of the Good Ol' Boys Network (which is still very much alive and well!). Even if you don't participate in Track meetings, your membership gives you a way to support our existence and be a part of a growing group of women who really appreciate each other. And the Trii-Annual Gatherings are unlike any other "networking" event! We know women don't network like men. We want to build relationships, we want deeper, more meaningful connections. That is exactly what GGN provides.
Our membership fee of $50 per year gives you access to our Track Meetings and also contributions to our Newsletter. The fee helps sustain our website, but it also ensures that when you participate in a Track meeting, you will honor the sacredness of the conversations because you are a member.
We created a digital card that helps people understand what they can get from joining GGN so click here to see the card.
Your membership helps give us that foundation, the strength to grow and have an impact on the lives of so many more women.
Great Girls Are Amazing Women!!! Thank You!!!
Hope to see you soon,
Margery Miller, founder Great Girls Network