January 2019 Newsletter + Track meetings + One Day Only Free Book Download!!!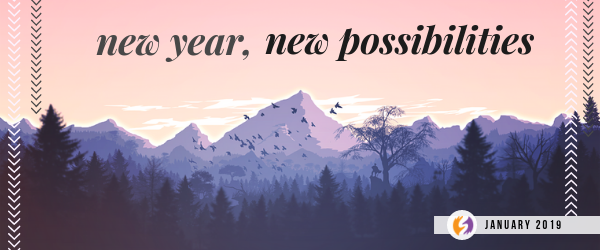 A Time for New Possibilities!
Resolutions are one way to begin the new year, but I'm taking a cue from our GGN member Toni Portmann who has added the tag "possibilitarian" to her signature on emails. As usual, she inspires me to think bigger!
We think we know who we are, yet do we really? Isn't life still full of possibilities for more of who we can be? Have we really tapped into the essence of who we are? Or are we repeating habitual behaviors because it is what we have done for years?
Even the youngest women I meet through GGN come loaded down with the vestiges of family belief systems, acculturated rights and wrongs that they carry around like 50 lb. back packs on their shoulders. And why? I'm thinking that the world is a pretty scary place for all of us, no matter what our age, so we have a tendency to cling to what is familiar, and gives us a semblance of safety. But is that really fulfilling? Is it leading us forward or holding us back?
I've taken a lot of risks in my life, yet I still find myself stuck in old patterns from time to time. Great example: my friend Karen Almond has been talking about the book, The Untethered Soul by Michael Singer for a few years. I resonated with many things she told me about from it, and I sort of thought I knew what it was about, so didn't take time to read it. Then she actually gave me a copy as a gift. And the next day, my coach reminded me that I need to be careful about skipping details, that they are more important than I realize. Wake up call!!! So I started reading the book, and am finding amazing details that are already enhancing my ability to be even more comfortable in my own skin, stay true to myself, feel inspired about life.
What if I hadn't seen the possibility of more to learn? What if I stayed in my belief that I knew what was in that book? What other possibilities are just around the corner that I might miss if I don't stay open, ready, available for them?
So I'm dedicating this year to having the courage to stay open, look forward to the opportunities that new challenges, difficulties and joyful moments offer.
What new possibilities are in store for you? Are you ready?
Member News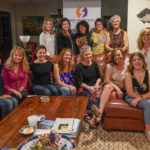 Workshops, information, and opportunities to share from our members to you!!!!
---
Donna Valentino is looking for GGN Members to do Kick It with Donna podcasts
with her! First, she wants to know what your New Year resolutions are for 2019. Second, she wants to start a once a month podcast called From the Heart, which would focus on your personal story of overcoming an obstacle or surviving a tragedy. If you are interested, please contact her: donna@kickitwithdonna.com
---
From Brass Tacks Collective join us on January 19th from 10 am to 12 noon at WeWork Thanksgiving Tower for a workshop with Keisha Whaley.
Learn how to create a brand – starting with quick exercises to begin defining a brand from scratch, ways to apply a brand personality to tone and word choice, and how to document your voice as part of your brand guidelines.
---
From Brass Tacks Collective join us on January 26th from 10 am to 12 noon at
WeWork Thanksgiving Tower for a workshop with Keisha Whaley.
What reactions do various colors evoke? How can hues impact visual communication or change the tone of a design? Learn the biases that affect color perception and how a designer's palette is a tool for subliminal messaging.
---
GGN Member Toni Portmann invites you to Stay Younger Longer:   Advice from the Experts. Tuesday, Jan. 22 4:30 pm to 7 pm
With all the attention these days on living longer — what can we do to make sure we are living well? Prime women is bringing together a panel of experts on women's health, fitness, nutrition, cosmetic enhancements and wellness to share their insight with you!
Click here to Buy your Ticket
---

We are so honored that GGN member Maddy Kulkarni chose me and GGN tobe the January 2019 honoree for Dallas Heroes Project! To read the article she wrote, click HERE
is a non-profit Maddy started that highlights key people from non-profits and social ventures to help increase awareness about their organizations in the community.  As Maddy is a Marketing Maven, she creates a PR campaign for the whole month, which really helps increase our visibility.
Here is a reminder of the great work she is doing — she gave a TED talk in 2018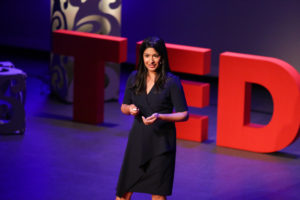 that explains her motivation for creating this non-profit and how it feels to her to make a difference. If you didn't see it last year, check it out! Click here to see Maddy's Ted Talk And right here and now, I want to share that Maddy is MY Hero!!!!
---
Member Michelle Riddell is offering an opportunity for anyone interested in growing as a leader. All meetings are held at United Way Dallas from January 30 to May 22, 2019. The Leadership & Reputation Academy is an intense, eight part Executive Education course aimed at new and emerging leaders around the Dallas Metro. The class size will be no more than 30 participants.
A clear outline and details are available HERE
---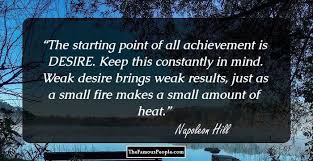 Track Meetings
To register for a Track meeting, log onto our website as a Member.
NOTE: We are adding a special introductory OPEN TO ALL Track meeting on a new day! See below!!
To take advantage of these amazing Track meetings, you must join GGN! (Exception: the Special Introductory Track) Each one is an event or happening in itself. Some members come frequently, some come only once in a while. Whenever you attend one, you will find out things you didn't know, connect with women who will challenge and inspire you, and you will leave with some new perspectives.
Growth Track
January 9, 2019
7 to 9 pm
Great way to start the new year — talking about growth! What's on your mind? How do you want things to be different? Where do you feel stuck? In this conversation, anything goes! Bring you new ideas, your hopes, your dreams and get support and helpful feedback from amazing women!
Click here to join us at our next Growth Track meeting
Special Introductory Track open to GGN Member + non-Members
January 14, 2019
10 am to 12 noon
This is an OPEN TO ALL Track meeting! You do not have to be a member to attend this event! We have women interested in GGN who don't have schedules compatible for evening meetings, would like to try a daytime one. So if this one works, we will add it to our programs! We are looking forward to having many current members who want to share the value of GGN with prospective ones. Join us!
Click here to join us at this Special Intro Meeting
Transitions Track
January 23, 2019
7 to 9 pm
Time is NOW to make changes! At least to be working on them…. This Track is also an anything goes one in terms of what you want to bring up. Relationship issues? Work stuff? Too many demands on you and not enough time? We are ready and willing to go there with you!!!
Click here to join us at our next Transitions Track meeting
Join Us on Facebook
We have an open Great Girls Network page which we would love for you to go to and "like" us and "follow us first" to keep up with our events and also perhaps spread the word about our group.
Click here to go directly to our Facebook page to like and follow us first!
If you join GGN, you will have access to our closed Great Girls Network Group which serves as a forum to ask questions, think about new ideas, and share updates with our members. We have such a talented group of women this gives you access to whatever they have to offer that might help you grow.
The private group on Facebook can't be accessed by anyone not in the group, so you will be in a safe environment with women who are committed to our values and our pledge to end the comparing and competing that gets in our way out in the big world.
Become a Member
Great Girls Network is our way of being the opposite of the Good Ol' Boys Network (which is still very much alive and well!). Even if you don't go to Track meetings, your membership gives you a way to support our existence and be a part of a growing group of women who really appreciate each other. And the Semi-Annual Gatherings are unlike any other "networking" event! We know women don't network like men. We want to build relationships, we want deeper, more meaningful connections. That is exactly what GGN provides.
We created a digital card that helps people understand what they can get from joining GGN so click here to see the card.
Your membership helps give us that foundation, the strength to grow and have an impact on the lives of so many more women.
Great Girls Are Amazing Women!!! Thank You!!!
Hope to see you soon,
Margery Miller, founder Great Girls Network