May 2018 Newsletter + Track Meetings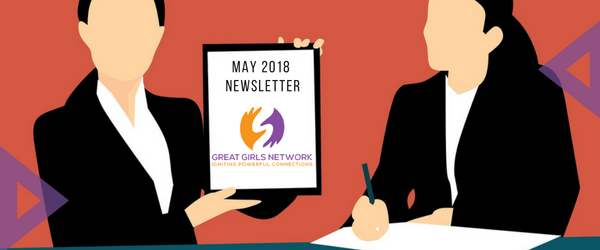 Great Girls Network is moving forward!
We are reorganizing our Leadership Team, adding social media and working on new ideas to help women build more meaningful connections. What is most important is that we are inspired to keep encouraging women from all different backgrounds and experiences to get to know each other and learn from one another.
When we talk about the value of this group, we keep coming back to how enriching and inspiring it is to be able to bring our authentic selves to each encounter–whether it be a Track meeting or a larger gathering. According to those who are entrenched in the corporate world, the glass ceiling isn't really cracking–it seems to be even stronger. It may give us the impression that our authentic selves don't actually have a place in this world.
We can't let that discourage us! We may not hold sway in corporate board rooms, but we can make a difference in whatever workplace we spend our time. And if we're not currently working, the relationships we build with each other have a tremendous impact on our families. We can encourage other women to grow. We can support other women being promoted. We can teach our children to value themselves, to feel worthy. We can stop seeing other women as our competition and create a sense of sisterhood wherever we go.
Throughout history true change has been led by people who have such a strong single mindedness of purpose that nothing gets in their way. To be purposeful about authenticity is a worthy endeavor! Instead of getting frustrated by the lack of change we want to see, we can more fully live the change in our daily lives. This means being very conscious of how we treat each other. This also means that we look for opportunities to mentor each other, challenge the status quo by asking questions and then creating new answers.
The world doesn't change because we are complacent. It changes when we change how we operate in it. As our numbers grow, we open up new possibilities for women of all ages, all backgrounds, to find their true value and express it. Fully engaging with other women makes those possibilities seem real, and gives all of us an extra boost to keep going, keep growing.
Member News
Last month we meant to let you all know that one of our members has had a major move in her profession…. Nicole Stockdale, formerly deputy editor of the Dallas Morning News editorial page got promoted to Director of Digital Strategy. She is a bit sad to leave the editorial board after 12 years, but thrilled to take over this newly created position to help the News continue moving forward and staying relevant in the digital universe. Click here to read about this great news!
A call to women in tech! Member Ashwina Kirpalani sends us a note: "I wanted to share the soft launch of a group focused on women in analytics group to bring ladies who are doing robust analytics and data work together to learn and grow in a friendly environment. Formed by women in the nonprofit and private sectors, we will talk about new technologies and tools as well as share career resources. We want to build a community of women who can grow together, connect with each other, and mentor the next generation of awesome STEM women! " To learn more about it click here!
New Feature! Member Profiles!!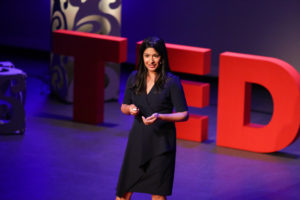 Maddy Kulkarni, one of our Leadership Team members just delivered an amazing TedxPlano talk and we have the video! Please check out this inspiring take on how to make a difference in the world.
Click here to see Maddy in her eloquent glory!
Maddy is a rare species, a native Texan. She attended UT-Austin for her undergraduate studies and then headed northeast to NYU for graduate work. While in NY she accepted a marketing position with Pepsico and it wasn't long before she was home again at Pepsico's Plano office.
Maddy is an accomplished professional who thoroughly enjoys her work, but she wanted to find a way to contribute to the community as well. Her mother had always stressed the importance of education and Maddy knew there must be some way to use her education to benefit the community and then she found it!
Maddy started Dallas Heroes Project, a not-profit, that highlights a "hero" every month that is making a difference in our community. The 28 heroes to date come from a variety of social service agencies, but each of them has made a unique contribution to solving a critical social problem.
Highlighting the hero on Dallas Heroes Project website increases contributions to the cause and regularly results in more volunteers who think, "I could do that." Each hero's story is then linked to a United Nations Sustainable Development Goal–showing how what we are working on here in Dallas ties to a global agenda.
We're pretty sure Maddy's mother is proud.
Here's what Maddy shares about GGN: "The Great Girls Network gives me support and sisterhood! A few examples: knowing about my professional aspirations, Karen Gallo invited me to check out Million Cups Frisco with her, where we chatted about business models and social entrepreneurship. I've benefited from a ' deeper beauty conversation' and an invigorating facial from Amy Halman at her Ecoblend Therapies. And Lea Kaltenbach coached me on how to breathe and present in preparation for my TED talk). This is a group of girls who are investing in each others success! (thank you to Leadership Team member Lynne Sipiora for this profile on Maddy!)
Track Meetings
To register for a Track meeting, log onto our website as a Member.
To take advantage of these amazing Track meetings, you must join GGN! Each one is an event or happening in itself. Some members come frequently, some come only once in a while. Whenever you attend one, you will find out things you didn't know, connect with women who will challenge and inspire you, and you will leave with some new perspectives.
Growth Track
▪ May 2, 2018
▪ 6:30pm – 8:30pm
▪ Spring is prime time for new growth. This track helps you think through new directions, look for what is in the way of moving forward and get encouraging and positive feedback to help you on your way. If you haven't been to a Track meeting before, or for a while, this is the ideal time for you to spend time with inspiring women who are willing to openly talk about their challenges in a safe, nurturing environment. And you may get some really great ideas that will help you blossom forth! Try it!
Transitions Track
▪ May 9, 2018
▪ 6:30pm – 8:30pm
▪ Ghandi said we need to BE the change we want to see in the world. This track helps make change something we can embrace, learn from and even get excited about! It is also really inspiring to hear stories from women who have been involved in GGN for a while–they are on the move and loving it!
Be Well Track
▪ May 16, 2018
▪ 6:30pm – 8:30pm
▪ You never know what will come up at a Be Well Track meeting! Last time we spent almost the whole time on questions brought up by a member about how to maintain her emotional well being, keep a sense of equilibrium as she moves through her world. It was an amazing conversation. What would you like to talk about next? Bring it on!!!
Become a Member!
Joining Great Girls Network is not only an opportunity for you to experience relating to women on a deeper, more meaningful level, it also enables other women to take advantage of these connections. Even if you don't go to Track meetings, your membership increases our funds so that we can offer scholarship members a chance to engage and learn with us. And the Semi-Annual Gatherings are unlike any other "networking" event! We know women don't network like men. We want to build relationships, we want deeper, more meaningful connections. That is exactly what GGN provides.
We created a digital card that helps people understand what they can get from joining GGN so click here to see the card.
Your membership helps give us that foundation, the strength to grow and have an impact on the lives of so many more women.
Great Girls Are Amazing Women!!! Thank You!!!
Hope to see you soon,
Margery Miller, founder Great Girls Network