March 2019 Newsletter + Track meetings
Spring Into Action! And attend our Spring Gathering on April 3, 2019 from 7 to 9 PM
Our iconic speaker is Nell Merlino who created Take Our Daughters to Work Day and the Make Mine a $Million Business Program.  She recently launch the movement Born Worthy to encourage girls to feel their worth (see picture below).  She gave a TedTalk recently on the subject:  Click here to attend!
What are some fabulous ways to Spring Into Action?
Spring is a time of awakening, shaking off the musty, confining feelings of winter and making new plans, creating new ways to express ourselves in the world.  So here are some questions:
How much time do you spend going over the past?
What could you do for yourself to move forward instead?
Do you think about what you're missing out on?
Have you thought about ways to create space for what you really love to do?
What is in the way of you doing what you really love?
Is that really in the way, or are you telling yourself the same old stories?
Do you take care of others but are too depleted to care for yourself?
What could you change in your life to make more room for yourself?
The things you change don't have to be dramatic or life altering.
What about adding some enhancements to your life, a few at a time?  You could:
Make time to go out and listen to music a couple of times a month…
Check out a museum you haven't been to in a while…
Cook something different and invite a few guests…
Read an actual book instead of on your electronic reader…
Listen to yourself talking to see if you are repeating old stories…
Check out who's running for office locally and learn about them…
Challenge yourself to do at least one completely new thing each month…
And if you haven't ever been to one of our Gatherings, or haven't been to one in a while, join us on April 3 for an incredible two hours of a little bit of networking and a lot of meaningful conversations with amazing women who will inspire you to keep learning and growing.  We'd love to see you!
Our guest speaker for April 3, Nell Merlino, launched her Born Worthy spring initiative with a group of teens in NYC.
Amazing conversations about their lives, their futures and how they see themselves as young women.
Member News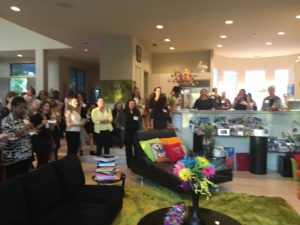 Workshops, information and opportunities to share from our members to you!!!!
---
Celebrate International Women's Day with us on March 8 — 11:30 to 1:30 pm!
Join us for a casual lunch at Chocolate Secrets, 3926 Oak Lawn, Dallas, 75219, to celebrate International Women's Day!
GGN member, Pam Eudaric (see her Member Profile Below), is the owner of this wonderful cafe with an added feature of fabulous gourmet organic chocolates made onsite!  We all buy our own lunch,  a free chocolate, and you can see the menu if you click here.
And enjoy 10 minute "spots" from"
Lilly Neubauer on "How to Build a Creative Career"
Pam Eudaric on "Being Open to Yes"
Anastasia Franklin on "relaxations Techniques and the Benefits of CBD Oil"
This is another fun way for Great Girls to get together and appreicate being amazing women.  click here to see information about our speakers
Please invite your friends and join us.  If you aren't a member of GGN, you can learn more about us.  And for sure you want to meet some of the Great Girls who are already members!
Free valet parking!
---
Brass Tacks Collective is holding the My Client is the Devil seminar again
on March 21st from 6:30 to 8:30 pm at WeWork Thanksgiving Tower.
---
From GGN Member Toni Portmann
I can't imagine
I can't imagine doing what needs to be done without having done what needed to be done
I can't imagine learning what needs to be learned without having learned what needed to be learned
I can't imagine loving without having loved or having been loved
I can't imagine having gratitude without having had the multitude of blessings that I have been given to be grateful for
Member Profile
Please welcome Pam Eudaric to Great Girls Network, as she is an amazing addition to our group!  Pam was born and raised on St. Croix in the Virgin Islands, but came stateside to attend Rice University in Houston and later law school at the University of Texas in Austin.
She practiced as a business litigation attorney for several years and then her three sons (now 30, 26 and 23) arrived.  Motherhood has a way of shaking things up and it certainly did for Pam.  She is now a business owner — times 3!
Chocolate Secrets, located at 3926 Oak Lawn Avenue, a casual cafe, sells coffee, gourmet organic chocolates and gifts and is also a community where literacy groups meet, live music is played and open mic night is Monday.  "I wanted to recreate the feel of St. Croix and I have succeeded," says Pam.
Business number 2 is the Green Earth Recycling Company, "this business allowed me to pour 17,000 square feet of concrete and nurture my male side."
And finally, the Joe Carter Construction Company, a business names fro her grandfather who was a paint contractor.  Pam explains, "I got into this business when I got a bid from another construction company that was ridiculous and I thought, I can do this!"  She read, she researched and she met with building inspectors and, no surprise, she did it!
Pam also helped found and hosts the Global Woman Club of Dallas each month at Chocolate Secrets, an organization that brings together women from 30 countries to receive support and business assistance.
Pam is all about women supporting women and feels too often "girls are told no."  Great Girls Network was a natural fit for her and she can't wait to begin attending track meetings!
Thank you to Lynne Sipiora for our Member  Profile!
---
Track Meetings
To register for a Track meeting, log onto our website as a Member.
To take advantage of these amazing Track meetings, you must join GGN! Each one is an event or happening in itself. Some members come frequently, some come only once in a while. Whenever you attend one, you will find out things you didn't know, connect with women who will challenge and inspire you, and you will leave with some new perspectives.
Growth Track
▪ March 6, 2019
▪ 7 to 9 pm
▪ Yes, Spring is about new growth! So what's got you stirred up this season? Are you itching to try some new things? Are you ready for some new challenges and adventures? Do you need a little support and encouragement? Find all that and a lot more at this Track meeting! Click here to join us at our next Growth Track meeting
Monday Magic Track
▪ March 11, 2019
▪ 10 am to 12 noon
▪ We're rocking on with a core group who love getting together once a month! This particular Track is sort of "open season" for anything that comes up. Since we didn't have a lot of "burning issues" last time, we started talking about Institutional Patriarchy and wow–the conversation really flowed. We all had different perspectives on that subject, and found ways to rethink some things. So cool! Hope you join us!! Click here to join us for Monday Magic!
Transitions Track
▪ March 20, 2019
▪ 7 to 9 pm
▪ We just keep on changing! And growing! And creating new strategies for what works in our lives. This Track is also a place to explore new ideas, rethink old ones and just clear up your thinking in general. Come see! Click here to join us at our next Transitions Track meeting
Join us on Facebook!
We have an open Great Girls Network page which we would love for you to go to and "like" us and "follow us first" to keep up with our events and also perhaps spread the word about our group.
Click here to go directly to our Facebook page to like and follow us first!
If you join GGN, you will have access to our closed Great Girls Network Group We have such a talented group of women this gives you access to whatever they have to offer that might help you grow.
The private group on Facebook can't be accessed by anyone not in the group, so you will be in a safe environment with women who are committed to our values and our pledge to end the comparing and competing that gets in our way out in the big world.
Become a Member!
Great Girls Network is our way of being the opposite of the Good Ol' Boys Network (which is still very much alive and well!). Even if you don't go to Track meetings, your membership gives you a way to support our existence and be a part of a growing group of women who really appreciate each other. And the Semi-Annual Gatherings are unlike any other "networking" event! We know women don't network like men. We want to build relationships, we want deeper, more meaningful connections. That is exactly what GGN provides.
We created a digital card that helps people understand what they can get from joining GGN so click here to see the card.
Your membership helps give us that foundation, the strength to grow and have an impact on the lives of so many more women.
Great Girls Are Amazing Women!!! Thank You!!!
Hope to see you soon,
Margery Miller, founder Great Girls Network