June 2020 Newsletter + Track Meetings for GGN Members (from anywhere!) + GGN Members share
Margery's Note....
So many things to think about!
What works best for you?
In the last couple of months I've been doing so many Zoom meetings and some things keep coming up over and over. First, we really are all in this thing together.
Second, we all need to stop, look around and realize that some of the changes we're experiencing are going to be permanent. And some are going to shift back to old ways. And there is no way for us to know today just what that will look like. We still have risks ahead, and we need to be aware!
So here are things that have come up as great suggestions:
▪ Figure out what it takes to be financially secure
▪ If you're working, you get to participate in the decision about where
▪ Do whatever it takes to get comfortable with uncertainty
▪ Really figure out what you value and look for how your life does or does not reflect those values
▪ Make sure you have people you care about around you, whether in person or virtually
▪ Don't get careless and keep paying attention to how to take care of yourself
▪ And don't try to do this alone! Collaboration is key to for all of us to succeed!
And now for a Crucial Conversation….
▪ Our country is in turmoil over racial injustice
▪ This is not new, or even worse than before, it is just more evident
▪ When we only care for ourselves, and ignore others, we all lose
▪ Even if we're not in a position to take action today, we can make sure we are aware, and that we do whatever we can to not perpetuate this travesty
▪ We love the diversity in GGN, but are we insisting on diversity enough in our daily lives?
▪ We can be part of the conversation and let it be known how important it is to have a free, open and inclusive society FOR EVERYONE
▪ Most importantly, we can all VOTE to try to change things
▪ We can all be change agents in our own way.
▪ Not facing this issue is as big a risk as not facing Covid-19!!!!!!!
I am going to quote Jennifer Sampson, CEO of United Way Metropolitan Dallas: "These recent incidents involving violence and threats against African-Americans, expose the persistent and underlying racism, prejudice and privilege that prevent too many people from being treated with dignity and respect. Everyone deserves to live in a society where they feel safe, respected and protected. We can and must do better to guarantee that the rights and freedom of every person in every community are ensured and protected. In the end, we all have a role to play in creating a more equitable future."
GGN is not a political group. But these issues we are facing are not political, they are about humanity. With tears in my eyes as I write this, I pray that we can somehow keep making steps forward, stand up for what it right and just, and not just accept that racism and injustice are inevitable.
So, here's my call to action: Talk about this. Care about this. Open your heart to others and listen to what they think and feel. And if you find hatred and prejudice, challenge it in the best way you can. No, we're not going to convince others to change, but we can let them know we don't agree with them.
Member Thoughts, Ideas & Recommendations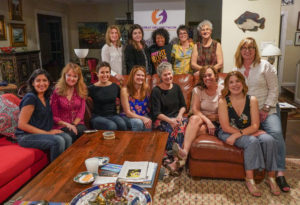 I keep using this picture because these women represent the soul of GGN, such wonderful faces to see!!!
---
GGN Member Michelle Bogan offers her latest blog in response to what is happening in our communities:
SHOW UP
If you are not Black or Asian, you may feel it's not your place to say something about all the terrifying ways racism is playing out around us. In fact, the exact opposite is true. Demonstrate humanity. Show up.
Staying quiet, keeping your head down, acting like this is none of your business sends a message – even if totally unintentional – that you do not care, that because this does not affect you directly it is not important. This is totally contrary to being an ally at a time allyship matters most. Allies show up. Read more….
---
GGN Member Ann Ranson offers a worksheet to help you identify your core values….
"Have you lost sight of what's really important to you? In our busy, often over-scheduled lives, it seems we've lost our connection to what really matters to us. Instead, we're just reacting to the 'incoming'. If you're open to a new way of designing your life, read on. . ."
Click here to link to the worksheet!
+ Ann is one of our conversation leaders this month in Energizing Your Spiritual Life
---
From GGN Member Rosemary Wright
Rosemary is a Certified Financial Planner and has wonderful insight in helping women get and keep their $$ act together.
She also writes for PRiME Women magazine and recently published this article. She says, "I tell people that the work we do in our 50's is vital to our long term financial security." I'm sure her ideas apply to women of all ages!
Click here to read the article
---
GGN Member Vicki Lauter, offers a blog post on Good Decisions:
Since we have all been having to make decisions without all the facts this might be helpful as people, companies and employees start to go back to work, etc.
This is a process I have used in the past for my business but I've also used it when I have a general decision to make and I can't seem to figure out which way to go.
Click here to link to the blog post
---
GGN Member Beth Wuller shares her thoughts on setting priorities:
When was the last time someone said to you, "I just didn't have time to get to that yet…"? No matter what the actual time delay – hours, days or weeks – they are sending you a clear message about their priorities, personal time management and generally how they approach life.
She wrote a blog for her Neugroove.com company site.
Click here to link to the blog post
+ Beth is one of our conversation leaders this month in Energizing Your Sprititual Life.
---

GGN Member Bridgette Moody says:
In her coaching of executives she finds so many suffering from anxiety and frustration. This article speaks to the value and impact of feeling purposeful about ourselves and our work.
Click here to read the article
+ Bridgette is one of our conversation leaders this month in Energizing Your Spiritual Life.
---
GGN Member Toni Portmann reminds us:
Walkabout Workplace is the answer to the problems created by remote work AND will create optimal bottom line results for companies while 'connecting colleagues to each other and the companies they work'. The result: Top Level productivity; and the creation of a PLACE to go to work or class where you 'feel' you are really Present! Check us out! #workplaceofthefuture #distributedteams #workplaceexperience #workanywhere #remoteteams
To have a conversation with Toni about what this amazing system can do for you, click here to set an appointment on her calendar!
Track Meetings
For now we are still holding our meetings on Zoom. GGN Members from any location are able to attend with no cost!
Our Track meetings are designed to give us a sacred space to have meaningful, purposeful conversations without fear of being judged or competed with. Only Members can attend. They are amazing experiences, unlike any 'networking meeting' you have ever attended!
To register for a Track meeting, log onto our website as a Member.
Each one is an event or happening in itself. Some members come frequently, some come only once in a while. Whenever you attend one, you will find out things you didn't know, connect with women who will challenge and inspire you, and you will leave with some new perspectives.
Energizing Your Spiritual Life
June 3, 2020
7 to 9 pm
This is number 6 of our Focused Track Meetings. We are pulsating from Business topics one month to Personal Development the next and this one is going to be really inspiring
Our 3 members leading the conversation:
Beth Wuller, Founder of Neugroove, offers inspirational products, coaching services, and access to little-known mental health resources.
Bridgette Moody, Strategy Consultant – helping others find the best approach for success, who brings great spirit to her work.
Ann Ranson, Coach, consultant and facilitator of change, who specializes in helping us find peace in our lives.
All three are looking forward to leading the conversation about energizing our spiritual lives.
Monday Morning Magic Track
June 8, 2020
10 am to 12 noon
The Magic continues even virtually! This group is so open and honest, and gives us all a chance to really think through what's going on in our lives. We'd love to see you!
Growth & Transitions Track
June 17, 2020
7 to 9 pm
For now, we are continuing to meet on Zoom. We will take a poll of our members to see what we want to do next month. AND the conversations we've had the last 3 months have been what may seem surprising: really deep and meaningful. Check it out!
Click here to join us on Zoom at our next Growth & Transitions Track
---
Margery's articles for PRiME WOMEN….
Just to let you know, I have published 12+ articles in this online magazine over the past year. The first series of articles focuses on what really works for women–including how to figure out what you want and your life purpose. I recently started a second series on women and business. The magazine has a page for each author, Click here to go to my Author's Page
Check it out and subscribe!!
Become a Member
Great Girls Network is our way of being the opposite of the Good Ol' Boys Network (which is still very much alive and well!). Even if you don't participate in Track meetings, your membership gives you a way to support our existence and be a part of a growing group of women who really appreciate each other. And the Trii-Annual Gatherings are unlike any other "networking" event! We know women don't network like men. We want to build relationships, we want deeper, more meaningful connections. That is exactly what GGN provides.
Our membership fee of $50 per year gives you access to our Track Meetings and also contributions to our Newsletter. The fee helps sustain our website, but it also ensures that when you participate in a Track meeting, you will honor the sacredness of the conversations because you are a member.
We created a digital card that helps people understand what they can get from joining GGN so click here to see the card.
Your membership helps give us that foundation, the strength to grow and have an impact on the lives of so many more women.
Great Girls Are Amazing Women!!! Thank You!!!
Hope to see you soon,
Margery Miller, founder Great Girls Network