July 2019 Newsletter
Keep On Having Fun!
We had a rough start with the big storm that tore through Dallas…. so maybe some of you didn't have much fun waiting for your electricity to come back on. But we're getting back to normal, and we can now make the most of our summer! We're taking a break from Track meetings in July and hope to see our members back in August.
If you're anything like me, you tend to stay busy and suddenly look up and wonder where did all the time go? This year, I'm committed to making sure that I have time for FUN! I'm off to spend a month in upstate New York in a house I rented for the month of July. Friends are coming to visit, and I have friends who live nearby, so I am looking forward to a lot of playtime!
We asked our GGN members to send in pictures of how they are already having fun this summer (see below). If you read our newsletter last month, you saw some questions I asked. Read below how GGN Member Sarah Nedjl decided to answer them.
So, in case you missed them, here they are again:
———-
What does feel like fun to me? 
Who might be someone I could create some fun with? 
Have I been spending too much time alone?
Have I been spending too much time with other people and might find alone me more fun?
What did I do in times past that was fun? Does that still interest me?
What am I waiting for?
I hope some of you will send in stories and pictures about fun you're having this summer!
Member Profile
Leadership Team Member Maggie Ong'ele
Meet Maggie Ong'ele, a young woman with an old soul.
Maggie was born in Kenya and graduated from high school in Zimbabwe.  At 16 she left Africa for Texas Women's University in  Denton, Texas – Maggie says it was "a very nurturing experience." Next up was the  University of Houston, where she obtained a law degree. She returned to Dallas and started her new career in the DA's office and later became an in house attorney for a hospital, whose corporate headquarters were located in the Galleria.
It takes great confidence to move to a new country and begin an intense career and Maggie credits her confidence to both her parents. "My dad intentionally set up opportunities for me to meet his women friends from work and back in his college days, who were doing various things with their careers, and my mom has always fostered the confidence in me that I can do pretty much anything I put my mind to."
Maggie joined Dallas Social Venture Partners (a global network of local partners who strengthen not for profits and invest in innovative solutions to tackle social challenges) and quickly renewed her lifelong commitment to not for profits. She is passionate  about criminal justice reform and soon became a consultant for organizations that were working in that area. After working in the nonprofit space for a couple of years, while maintaining a small legal practice, she came to a pivotal and choice-ridden point in her career, but did not have the clarity to choose a single path – Would she remain a consultant?  Return to the practice of law?  Seek  a corporate assignment? She had lots of questions and no immediate answers, so she took a very bold step and decided to embark on a sabbatical.
"I am typically calendar driven," Maggie explains "and so, after a few weeks of holding on to being 'busy' because that is what my mind and body were used to, I decided to schedule NOTHING' for 6 months. I initially thought I might travel out of the country for the sabbatical because a foreign environment would certainly challenge my way of thinking, but instead I decided to challenge myself in my own space and staying in Dallas turned, in itself, out to be an important lesson that I was meant to learn – how to slow down, rejuvenate and grow in my natural habitat (after all, one can't always travel elsewhere for relief from life's complex situations). I do yoga, read a lot and have taken weekend trips, but primarily I have allowed myself time for creativity and the mental space to germinate the ideas that come to mind."
Maggie's sabbatical will soon end and she has developed an idea on what to do with her career. She's not ready to announce it yet, but she's clearly looking forward to it.
Maggie discovered the Great Girls Network while at SVP and is tremendously  grateful she did.
"I read somewhere that my generation is a lonely one and that loneliness can increase a person's likelihood of developing certain terminal illnesses. Plus being online so much can be polarizing but at GGN women arrive and talk face to face and there is genuine fellowship!"
Member News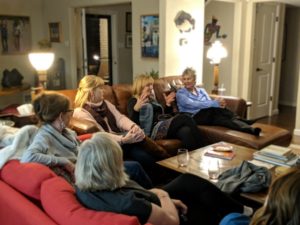 This month we're sharing how some of our members are having fun!!! Also, some requests for your assistance….
---

GGN Member Sarah Nedjl shares her answers to the fun questions…
Her answers were so fun, we posted them on our GGN blog!
(Click here to read it)
---

Big Wedding News!  Members Claire Goldman and Meghan Miller are getting married!!!
They are having a small wedding in Sonoma, then will celebrate with family and friends in Dallas later in the fall.
Congratulations beautiful girls!!!
---
From our GGN Leadership Team:
By popular request! We are expanding to THREE open gatherings each year!!!
Many women have asked us to have more opportunities to check out GGN without having to join, so we are adding an August 21 open Gathering to our calendar. We will have a great speaker and give everyone a chance to connect with us!
Wednesday, August 21, 2019
7 to 9 PM Members $10, Non-Members $15
---
Member Amy Halman & new baby Kieran are having so much fun!
Kieran is 4 months old now, rolling over and moving all over the place! She has figured out how to shorten her work day to spend more time with him—and it is making both of their lives richer!
---
GGN Chicago is starting to happen!
Loretta Moore-Nixon and Shontelle Mixon met with friends in Chicaco in June to get the ball rolling….
They will be meeting through the summer, sharing information with their connections and we are looking to hold our first large gathering in the early Fall. If you have any contacts in Chicago you want to pass on to us, please send them to margery@greatgirlsnetwork.org.
---
GGN Member Margaret Harris is having fun painting!
Her fun is enjoying the participation of her adorable dogs while she's working. That is fun for all of them!!!
---
Members Maggie Ong'ele and Maddy Kulkarni
Are glamming it up and trying to look fierce while out on the town….
Looks like they are a lot of fun!! Rock on, girls!!!
---
The next book in the Great Girls Network Series is available!
The problem with common sense is that it's not so common, and that is never more evident than in the business world. In her latest book, **Member Margery Miller** shares her insightful thoughts about everyday business practices in small segments that emphasize the human element, so you can easily put into practice what many books simply cover as theory. Being creative, trusting, empowering, and truthful in business can be a challenge, but Sound Business Bites shows you how to apply these critical foundations in order to run a more successful business. Presented in small "bites," it's a book you'll keep on your desk and refer to every day.
---
Member Lanell Rachid is looking for donations for Girls on the Run
Donating $40 will buy a pair of sneakers so girls from Title 1 schools can participate in the program. Currently, over 55% of girls need this kind of help! Participating in these 5K races helps empower more girls so they can see they have limitless potential to freely pursue their dreams! Giving is another way to have fun!
---
Member Lesli Robertson
Is working with women in Uganda who are designing mats from palm leaves and textiles from trees — including bark cloth, palm leaf, raffia and banana stem. She is collecting reading glasses, old smartphones and funds to help purchase wading boots (for the women to wear collecting palm leaves) and other helpful items.
The first picture shows the workers for Mekeka Designs. Click here to contact her and donate.
And this picture is some of the beautiful textiles in the collection….
---
Member Gloria Mansfield
Wants anyone in Financial Services to know:
We're Here to Help CLOSE THE SALE!
Enhance your existing financial presentation with persuasive images & motivating content that appeals to today's marketplace.
Piggy Bank Tutor Marketing Tool is the ice breaker that compliments your existing financial presentation by grabbing & holding your prospect's attention… CLOSING THE SALE!
Click here for more information.
---
Join Us on Facebook!
We have an open Great Girls Network page which we would love for you to go to and "like" us and "follow us first" to keep up with our events and also perhaps spread the word about our group.
Click here to go directly to our Facebook Page
Become a Member
Great Girls Network is our way of being the opposite of the Good Ol' Boys Network (which is still very much alive and well!). Even if you don't go to Track meetings, your membership gives you a way to support our existence and be a part of a growing group of women who really appreciate each other. And the Semi-Annual Gatherings are unlike any other "networking" event! We know women don't network like men. We want to build relationships, we want deeper, more meaningful connections. That is exactly what GGN provides.
We created a digital card that helps people understand what they can get from joining GGN so click here to see the card.
Your membership helps give us that foundation, the strength to grow and have an impact on the lives of so many more women.
Great Girls Are Amazing Women!!! Thank You!!!
Hope to see you soon,
Margery Miller, founder Great Girls Network