January 2020 Newsletter + DFW Track Meetings + Austin Gathering Rescheduled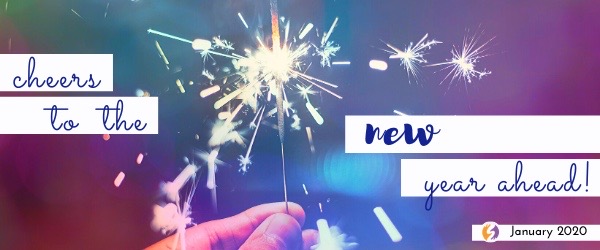 Margery's Note....
Choose Who You Want to Be!
Ready for a fresh start? New beginnings? I'm feeling inspired to put new light on the way we do things! And for me, it's all about choices, both within GGN and in my personal life.
Within GGN:
In Great Girls Network we focus on women helping other women. We are starting our new "focused track meetings" this week with a panel leading the conversation on how much we need to change in regard to how we do and don't do that in the workplace. I just published an article addressing this issue in PRiME Women, available here. Now is the time to become the change we want to see in the world! Please, if you are a GGN Member, come to our Track meeting on Wed., January 8 (see below) to join the conversation. And think about joining GGN if you haven't already to become a more vital participant in this dialogue.
In my personal life:
So what does it mean to CHOOSE who you want to be? Didn't you come into this world with certain genetic proclivities? Aren't you a product of your family, your culture, your surroundings? To that I say yes and no.
Yes, we have characteristics resulting from those influences; however, I have proved to myself that I can change the way I see things, the way I think and it can dramatically alter the way I live my life. And that in turn alters the way I show up in the world.
What difference has it made?
▪ I rarely hesitate to say what I really think when asked.
▪ I find it much easier to just keep telling the truth and letting things be.
▪ When others hear the truth, they know where they stand and it is up to them to make their own choices accordingly.
▪ I have stopped making major allowances for unacceptable behavior from others. If I don't appreciate how they show up, I just don't spend time with them. No apologies, no explanations needed.
▪ I spend a lot of time on things that truly interest me; very little time on things that don't.
▪ I keep letting go of worry about the future and whether this or that will happen. When good things come my way I feel grateful and think of them as daily miracles.
▪ I feel certain that the people I am close to in my life are there because they want to be, and I don't have to pretend to be anyone else to be in good company!
For me, being true to myself keeps me inspired and involved in Great Girls Network, writing articles about how we can be and encouraging all women to find their own center, their own life purpose.
So, here's my call to action: come join us!
We've Rescheduled our First Austin Gathering!
Tuesday, January 28, 2020
7 to 9 pm
This event is open to ALL women in the Austin area who would love to learn more about GGN and the difference it makes! We range in ages from 20s to 70s, from diverse backgrounds, all professions from stay-at-home moms to non-profits to the business world. It is a great opportunity to be able to meet and share your authentic, true selves with other women.
Member Highlight
Kara Bolwell was raised in Texas and graduated from UT-Austin. After graduation her parents said, "you've spent most of your life in Texas, it's time for you to go and explore!" So that's exactly what she did. Kara spent a year working on The Hill in Washington DC before deciding politics was not for her.
She returned to Texas and got a job as a buyer at Harold's, the store where she had worked through out high school. She decided a career in fashion merchandising is what she wanted to pursue and this new career path took her to NYC where she lived and worked for ten years and met her husband. They married there and Kara became a step mother to her husband's five year old daughter.
Several years after 9/11 the family decided they needed a more peaceful lifestyle and relocated to Eagle, Colorado. They built a home on land previously owned by her husband and added two more children to the family. It was during this time that's Kara's spiritual journey began. She'd had Hodgkin's Lymphoma in college and was diagnosed with breast cancer on her 40th birthday and, by necessity, healing and the meaning of life became a subject of great interest.
Kara discovered Reiki and found her calling as an energy healer and intuitive. She has recently expanded to be a Life Guide/Coach completing training in NLP, Hypnosis, and Time Line Therapy.
Kara decided it was time to launch her healing practice, but Eagle was simply too small, so they moved to Austin after an incredible 3 year experience in Paris, France with the family.
Soon after the Austin move, Kara met Margery on a girls trip in Chatham, NY. Margery was a friend of Kara's mother and was spending a month in Chatham. Margery presented a mini track meeting to the women and Kara recognized immediately that she had found another tool to help people.She asked Margery what advice she would give to starting a women's empowerment group in Austin. Margery explained the framework of GGN and that the next city she was she expanding to was Austin! Kara decided on the spot she would love to be a part of launching the Austin branch. Their first gathering was scheduled for last December but had to be postponed due to illness. It will be held on January 28th (this month!–see notice above).
.
Coincidence? You decide. "I'm so excited about the Austin branch, Kara said, I love the concept, the community and the forum that enables us to share our stories. This platform will empower women!"
Thank you to Lynne Sipiora for this profile!
Member News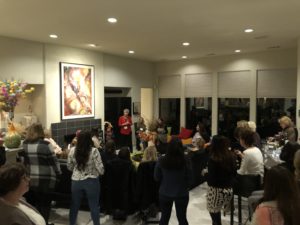 Workshops, information, and opportunities to share from our members to you!
---
GGN Member Judy Watson shares:
Women of Song is our upcoming Dallas Jazz Piano Society Concert. This gives you an opportunity to enjoy fabulous music from great women singing songs by women composers!
The concert is free, but all donations provide for our thriving Keys for Kids program.
Jan. 9 – 7:30 pm
Click here to view the information on Eventbrite
---
GGN Member Elizabeth Naylor shares a new 3 day meal plan to balance your moods…
Through the years of working with nutrition clients I've come to see anxiety and mood balance as co-symptoms with so many physical symptoms. And I've seen all of them… physical, emotional, mental and spiritual challenges improve as clients begin to make a connection with their food and their body. This guide highlights the role of nutrition in supporting you in whatever challenges you may be facing (or want to avoid). Happy 2020!
Quotes of the Month
"Knowing what must be done does away with fear." – Rosa Parks
"I didn't get there by wishing for it or hoping for it, but by working for it." – Estée Lauder
"Power's not given to you. You have to take it." – Beyoncé Knowles Carter
"The most difficult thing is the decision to act, the rest is merely tenacity." – Amelia Earhart
"The difference between successful people and others is how long they spend time feeling sorry for themselves." – Barbara Corcoran
"You can waste your lives drawing lines. Or you can live your life crossing them." – Shonda Rhimes
"I'd rather regret the things I've done than regret the things I haven't done." – Lucille Ball
"I hope the fathers and mothers of little girls will look at them and say 'yes, women can.'" – Dilma Rousseff
DFW Track Meetings
To register for a Track meeting, log onto our website as a Member.
To take advantage of these amazing Track meetings, **you must join GGN!** Each one is an event or happening in itself. Some members come frequently, some come only once in a while. Whenever you attend one, you will find out things you didn't know, connect with women who will challenge and inspire you, and you will leave with some new perspectives.
Bringing Along Women & Sharing Success ~~ How do we help other women grow as we grow?
January 8, 2020
7 to 9 pm
This is the first of our Focused Track meetings! Each month we will have members lead conversations on special topics to keep us all learning and growing. Donna Young, Toni Portmann and Maddy Kulkarni are our guides into how we can help other women as we grow, and how do we face our own obstacles in doing this.
Monday Morning Magic Track
January 13, 2020
10 to 12 noon
This group is a gathering of amazing women from so many different perspectives. We have conversations about everything from health and fitness to family issues to dealing with business questions. You never know what will come up! Join us!
Growth & Transitions Track
January 22, 2020
7 to 9 pm
We have combined these two tracks due to the change in our Focused Track meetings. As always, any subject, any new ideas, any questions posed to others are welcome! It is great to have a safe haven to bring our authentic selves.
Become a Member!
Great Girls Network is our way of being the opposite of the Good Ol' Boys Network (which is still very much alive and well!). Even if you don't go to Track meetings, your membership gives you a way to support our existence and be a part of a growing group of women who really appreciate each other. And the Semi-Annual Gatherings are unlike any other "networking" event! We know women don't network like men. We want to build relationships, we want deeper, more meaningful connections. That is exactly what GGN provides.
We created a digital card that helps people understand what they can get from joining GGN so click here to see the card.
Your membership helps give us that foundation, the strength to grow and have an impact on the lives of so many more women.
Great Girls Are Amazing Women!!! Thank You!!!
Hope to see you soon,
Margery Miller, founder Great Girls Network