December 2019 Newsletter + Gatherings + Track Meetings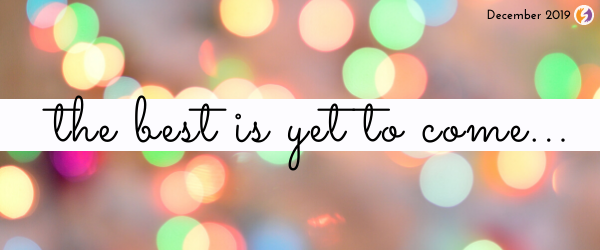 Margery's Note....
What did you learn over the last year that will carry you into 2020?
Newspapers, magazines and TV shows are going to start barraging us with a look back on everything from politics to movies and literature, telling us their picks for the "Best Of" for 2019. For me, I feel the best is yet to come, and I am convinced of it because of all the things I learned this year.
Some things that are clearer to me now than ever before:
Unless people speak to me directly to let me know what's on their mind, I spend very little time wondering what they are thinking about me. If they want to tell me, I figure they will! I'm more interested in what they are thinking about themselves!
It really doesn't matter what I think about others unless they ask me for feedback or input. Otherwise, it is much simpler to enjoy that they are living the lives they choose.
My ability to sleep peacefully at night is in direct correlation to the amount of anxiety I create by making up stories about what could go right or wrong. Fewer stories, less anxiety!
The more I give away, the more complete I feel. I have given away bags of clothes, taken old papers to recycling and generally made more room for space!
The more honest I am with myself, the easier it is to be honest with others. And it's the little rationalizations that are the main culprits for dishonesty with myself!
If I am not my very best friend, my other friendships tend to become strained. When I love who I am, and appreciate my effort to live my best life, that kind of friendship toward myself gets reflected back to me by my friends.
My notions of Right and Wrong are more blurry than ever. What is right for one doesn't mean it is right for someone else. And something that feels wrong to me can often be my best lesson in life.
And my most important lesson: I have full power to create the life I choose to have, as long as I know that the unexpected surprises, difficulties and challenges are all generated by me to keep pushing me further on my path. Being grateful for that makes all the difference!
Here's hoping you have a wonderful December, reflecting back on your life and taking all you have learned into a lovely new year!
---
If you're in Chicago Join Shontelle and Loretta Moore-Nixon in Chicago for a GGN Holiday Happy Hour
At The Hyatt Big Bar at Hyatt Regency Chicago, 151 East Wacker Drive, Chicago, IL 60601 December 19, 2019 from 5:30 to 7:30 pm.
Email lmnixon84@gmail.com or mixonshontelle@gmail.com to RSVP
Member Highlight
Amy Halman was born in Denton, Texas and like her mother and grandmother before her, graduated from UNT. In fact, in her senior year the Economics Hall was named in honor of her great-grandfather, a much loved former professor.
Amy's roots were in Texas, but after graduation her job took her all over the country. She traveled about eighty percent of the time and loved every minute of it, but eventually accepted a position in Chicago.
During this time, Amy had fought her way back from adrenal fatigue and skin sensitivity by discovering the power of wellness and nutrition. Inspired by all she had learned, she decided to make a career change. She obtained her license in aesthetics and massage therapy built an award-winning practice in Chicago. Ready for the next step in her career, she met a man who was founding a new company. The company, ACURE, produced skin care products and was committed to the "power of purity and efficacy," which was a perfect fit.
In her role as President of ACURE, Amy focused on product development, manufacturing and marketing and moved to Florida to open their headquarters in Fort Lauderdale. Amy loved her job, but recognized that her professional responsibilities were the mainstay of her life and she wanted more personal connections. She decided to return to Texas and work remotely so that she could be near her community of family and friends.
As the competitive natural skin care industry grew, it became frustrating how marketing sent mixed messages about true skin health. Inspired to change the conversation and empower more conscious skin health, Amy began exploring a new type of skin therapy approach. She spoke to her mentor, the owner of Ruby Room in Chicago, and decided that opening her own practice was a path she wanted to pursue, and as a result, EcoBlend Therapies was born.
"Many people told me that Dallas was perhaps not the best market for a-holistic, health conscious spa", Amy says, but she persevered. She spoke at the Holistic Chamber of Commerce and immediately began getting referrals.
"My goal and the businesses tagline is 'A deeper conversation on beauty' and it is indeed just that." (from Lynne: "As a client of Eco Blend, I can attest to the fact that a visit to Amy is like no other facial experience I have ever had.")
Amy has been in business now for three years and her practice continues to thrive. And as if that were not enough; last year she married Kevin and together they welcomed baby Kieran in February.
"I have truly come full circle and am thoroughly enjoying the life I have created."
Amy is part of the leadership team for GGN and says what she finds most beneficial about GGN is it's expansiveness.
"Women arrive with a specific focus, maybe its personal, maybe its professional, but we cover it all and there is always something that makes you reflect on yourself in a more dynamic way than you ever could have expected!"
Thank you to **Lynne Sipiora** for this profile!
Member News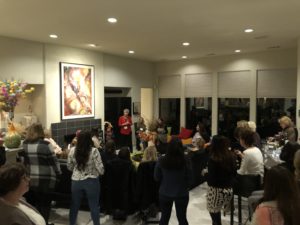 Workshops, information and opportunities from our Members to you!
---
New Track Meeting Format Coming in January!
Our Leadership Team met in September and we came up with an exciting new format for our first Track meeting each month.  Starting in January, the first one of the month will be Topic Driven, let by two or more GGN Members who have special interest in the subject. 
They will still be at Margery's house in SW Richardson, still on the first Wednesday of the month (unless holidays intervene), and still be for GGN Members only.  Some topics we are looking at include:
* Bringing women along – if you've made it to the board room, how do you bring other women up with you?
* Planning for retirement, Widow vs. Widowers – how do men and women prepare differently?
*  Aging and feminism
*  Parenting adult children
*  The political climate
*  Spirituality
*  Dealing with elderly parents
*  Female friendships
*  Conflict resolution
*  Build your Network through Pro Bono
*  Managing the holiday stress and family fun
*  What Does Being Well Really Mean to you and What will you begin to do
differently next year to preserve it past a resolution?
If you have ideas you want to add, please let us know!!!
And, our Monday Morning Magic will stay the same, and we will cover Growth & Transitions in our 3rd Track meeting each 3rd Wednesday evening.
---
From GGN Member Gloria Mansfield
---
GGN Member Shontelle Mixon shares:
Don't Wait to Live…Live Now, her new book! She came to a pivotal point, professionally and personally, where nothing in her life gave her joy and she needed a reset or sabbatical to find it again. This 30-day devotional is delivered in a conversational style for men and women who are searching for easy ways to experience holistic wellness every day. It also provides practical steps about how anyone waiting to live their life when certain conditions are met, or circumstances happen can live life today. Whether you are needing to reset your life or just need a friendly reminder to live every day, this devotional can help you pause and reflect to find the joy within yourself to move through life with more grace, peace, love, happiness, kindness, and a healthier body, spirit and mind.
---
GGN Member Whitney Anna Walker's company, Anna Sova Luxe Organics
is opening a retail and designer store at Meadow Central Market.
Please join us for cocktails and lots of goodies at our Grand Opening on Thursday December 5th. Great Holiday gift shopping with all natural, organic, fair trade and eco responsible bed, bath, home, jewelry and accessories.
Our old world, heritage quality linens are made exclusively for us in Italy with GOTS organic certification.
15% Discount for GGN Members with code: loveggn2019 both online and in the store!
Phone 214-742-7682     Anna Sova Home, Suite 108
10455 N Central Expy, Dallas, TX 75231
Quotation of the Month....
"Helping, fixing, and serving represent three different ways of seeing life. When you help, you see life as weak. when you fix, you see life as broken. When you serve, you see life as whole. Fixing and helping may be the work of the ego, and service the work of the soul."
― Rachel Naomi Remen
DFW Track Meetings
To register for a Track meeting, log onto our website as a Member.
To take advantage of these amazing Track meetings, **you must join GGN!** Each one is an event or happening in itself. Some members come frequently, some come only once in a while. Whenever you attend one, you will find out things you didn't know, connect with women who will challenge and inspire you, and you will leave with some new perspectives.
Growth Track
* December 4, 2019
* 7 to 9 pm
* Growth & Transitions will be combined in the new year, so this is our last separate one with that focus. Actually, any topic you bring up fits into that category, so feel free to come and share anything that is going on with you. We have the most amazing conversations in these little gatherings! Join us!
Click here to join us at our next Growth Track meeting
Monday Morning Magic Track
* December 9, 2019
* 10 am to 12 noon
* I have no idea why this group is so magical, but it is! We have covered every topic imaginable and keep having these amazing conversations. I think it is because even if you are new, the group envelops you with a feeling of comfort and ease. Check it out!
Click here to join us at our next Monday Magic!
Transitions Track
* December 18, 2019
* 7 to 9 pm
* This is, once again, our last stand alone "Transitions" track, as we are combining Growth & Transitions in the new year. Invariably, we have someone show up in a big change–whether reevaluating employment, life choices, difficult decisions. This is an ideal moment to talk about it, get some amazing feedback and feel reinforced for being true to yourself. A perfect way to end the year!
Click here to join us at our next Transitions Track meeting!
Become a Member
Great Girls Network is our way of being the opposite of the Good Ol' Boys Network (which is still very much alive and well!). Even if you don't go to Track meetings, your membership gives you a way to support our existence and be a part of a growing group of women who really appreciate each other. And the Semi-Annual Gatherings are unlike any other "networking" event! We know women don't network like men. We want to build relationships, we want deeper, more meaningful connections. That is exactly what GGN provides.
We created a digital card that helps people understand what they can get from joining GGN so click here to see the card.
Your membership helps give us that foundation, the strength to grow and have an impact on the lives of so many more women.
Great Girls Are Amazing Women!!! Thank You!!!
Hope to see you soon,
Margery Miller, founder Great Girls Network