April 2020 Newsletter + Zoom Track Meetings for GGN Members (from anywhere!) + GGN Members share resources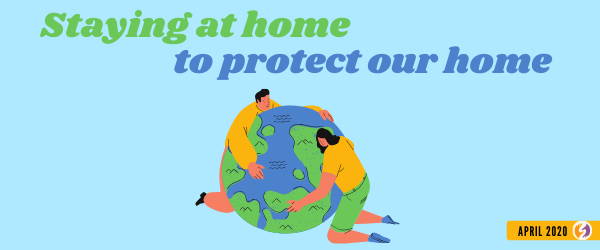 Shelter in Place -- How Do We Cope?
What Do We Do to Stay Sane?
Amazing how our priorities can change in a minute! One day we're running around the world just trying to keep up, the next moment we're at home, reorganizing our lives and figuring out how to cope with a present reality few of us believed could actually happen. Some have lost their jobs. Some are working from home. Some are "essential" and are risking their lives each day helping others.
First, let's look at the worst things:
▪ the virus is invisible, so we don't know who does or doesn't have it
▪ financial uncertainty
▪ we're confined to a much smaller world than we're used to
▪ people are sick and could die
▪ we feel more or less alone in deciding what to do when and how
▪ most people have a low skill level in coping with uncertainty
So, can we conjure up some benefits to this disaster?
▪ families are pulling together and cooperating so we stay safe;
▪ we are creating virtual ways to stay connected (see our virtual Track meetings below)
▪ we are questioning our habits, patterns and behavior with new eyes
▪ we are reassessing what is really important
▪ I personally love not having to wear a bra everyday!!!
▪ we have burst any semblance of the bubble that separates us from the rest of the world
▪ we are more aware of our vulnerability and many are more empathetic to the plight of others
▪ out of every challenge we grow the seeds of new solutions
So, here's my call to action: Even if you are completely isolated, find a way to help others — that will help you feel more valuable, purposeful and inspire you to have a sense of hope that we will overcome this difficulty.
Try new things — change something about yourself that you haven't taken the time to work on! Come out of this stronger, more dedicated to living your best life!
Member Thoughts, Ideas & Recommendations
From GGN Member Michelle Bogan
---
GGN Member Toni Portmann reports:
Thrilled with the latest news! Check this out! Walkabout Workplace is one of the Top Solutions to Adapt to the work at home challenge for large and small companies (including solo-preneurs) Think about joining the virtual office revolution!
If you know a CEO, or if you are a CEO, that wants to provide a PLACE for every employee to go to work, EVERY DAY, or if you know a teacher, trainer or student that wants to go to class EVERY DAY, FROM THEIR HOME or anywhere in the world, you need to know about Walkabout!
Today there must be a new model, as we have never really been here before.  We could have companies and students 'in their offices or their classrooms' every day for the foreseeable future. 
"Life has a way of making the foreseeable that which never happens and the unforeseen that which life becomes.
This isn't a strategy for the 'short term'; this is creating the 'new norm' to get us through a crisis today and to give us the opportunity to survive and flourish over the long haul."
---
GGN Member Lindsey Humbert, through her company Thrivent, is working on virtual financial literacy cohorts and asks you to help!
Lindsey Humbert is a Community Engagement Lead for the Fortune 500 company you have never heard of – Thrivent! At Thrivent, we believe that humanity thrives when people make the most of all that they have been given. As a not-for-profit financial services organization, we are here to help people achieve financial clarity, enabling lives full of meaning and gratitude. We exist to help you accomplish your goals while helping others along the way.
As part of that purpose and promise, we will be offering virtual Financial Literacy Cohorts, starting with the Marvelous Mamas and Terrific Teachers out there. These groups endlessly give of themselves, so we would like the opportunity to give back to them. If that's you, please participate in the one of the surveys below and consider joining us on this adventure…
Here are the two surveys: All Marvelous Mamas survey link and Terrific Teachers survey link.
If you fit either category, please participate in a survey and join Thrivent in this adventure!
---
GGN Member Kay Shaw shares:
Challenge of the week:
Work at home attire for waist up….you never know when you are called into a webinar but do not want to waste money and time on hair products, make-up, laundry, etc.
---

GGN Member Dr. Laura Kopec has an offer for you!
Until April 11, new clients and regular followups are free.
I have a complete protocol for Covid-19 backed by clinical studies on the Coronavirus and other viruses. There is a new genetic panel able to identify the risk for severity in Covid-19 (this is not a Covid-19 diagnostic test) that I am offering, and I have complimentary resources on nutrition and hygiene to boost immunity and assist in the fight against Covid-19 directly on my website.
Laura Kopec, Functional Genetic Specialist, Naturopath and Nutritionist has been helping women understand their genetics for over seven years, and has been in practice for eleven years and counting. Schedule your first appointment HERE
Special added bonus!
Dr. Laura will conduct a free 1.5 hour Zoom call for anyone who wants to learn about healthy, safe ways to deal with this pandemic.
Thursday, April 9 from 11 am to 12:30 pm
---
GGN Members Dr. Elizabeth Naylor and Jane Baldwin share a video:
They recorded a 1 hour talk on how to Build Your Resilience… Mentally, Emotionally, Physically and Spiritually. These are practical, supportive and encouraging things you can do today to support yourself and those you love.
Here is the link!
---
GGN Member Misty McDaniel shares coping aids courtesy of her company, Salesforce
▪ Nike Training Club
Yoga, HIIT, Running, no equipment needed
▪ YogaGlo – Online streaming, 7 day free trial. $16.99/mo., with 10min Kia Miller Immune System Booster, with 30min Kia Miller Detox for Health & Happiness
▪ Nat Kendall: Online yoga classes. Check out his Instagram and sign up to attend
▪ Lauren Cohen Yoga : One of the best yoga teachers offers deep heart-opening yoga practice online
▪ Down Dog App: Free classes now until July 1st
▪ Resilience classes – free and donation-based directly to non-profit: check it out!
---
GGN Member Whitney Anna Walker has new offers for you:
We carry three scent selection of Essential Oil Hand Sanitizers with 85% alcohol content that are very moisturizing if you are experiencing dry, cracked hands. Our essential oils are from plants and fruits and provide calming, soothing aromatherapy benefits. Where we can, we've donated sanitizer to senior and maternity facilities and can also send your purchase direct to the facility of your choice.
With the crisis, it's hard to know what to say right now. It may seem inappropriate to show you linens for which you may have no immediate need but we already created them and could not cancel the order.
We have up to 70% off for our certified organic white and cream duvet covers in all sizes and up to 30% off for organic 960 GSM (grams per square meter) heavy weight bath sheets and towels. Our heirloom quality duvet covers were made in Italy and are a 460 thread count.
We hope these products bring you some soothing relief for skin and senses or some cheer for a bathroom or bedroom refresh. Please click here to check out our warehouse sale or use code "spaday" for 30% off our absorbent, thick towels.
---
GGN Member Linda Medina shares an innovative story:
Busy women rarely slow down, there are too many ways we can still do good. Linda Medina was approached by her neighbor, Deb Greaves, who has a screen-printing business. Deb's business came to a complete halt with the coronavirus outbreak, but that wasn't her concern. She was worried about her suppliers – small businesses that relied on her to keep going.
Using Deb's artistic talents and Linda's marketing skills, they launched a website to sell t-shirts. The two most important elements of this venture were keeping business in business and donating $8 per shirt to a nonprofit working with the issue right now.
They offer three styles with two different colors. As well, there is an option to direct your shirt's donation to United Way of Metropolitan Dallas Corona Virus Relief fund, Meals on Wheels, COVID-19 Response Fund, No Kid Hungry, providing meals to kids who rely on school lunch as their only meal, or CDC Foundation Emergency Response Fund (Coronavirus)
Check out their website!
Track Meetings
During this period of Sheltering in Place, we are holding our meetings on Zoom. GGN Members from any location are able to attend with no cost!
Our Track meetings are designed to give us a sacred space to have meaningful, purposeful conversations without fear of being judged or competed with. Only Members can attend. They are amazing experiences, unlike any 'networking meeting' you have ever attended!
To register for a Track meeting, log onto our website as a Member.
Each one is an event or happening in itself. Some members come frequently, some come only once in a while. Whenever you attend one, you will find out things you didn't know, connect with women who will challenge and inspire you, and you will leave with some new perspectives.
How I Became the Woman I Am Today
▪  April 8, 2020
▪  7 to 9 pm
▪  This is number 4 of our Focused Track Meetings. We are pulsating from Business topics one month to Personal Development the next and this one is going to be really inspiring!
Neely Duncan, Partner in BKD, a national accounting firm, Pam Hoffman, Healthy Lifestyle Advocate, Healthy Aging Mentor, Financial Freedom Coach, and Elaine Collins, Hair stylist & Makeup Artist to all ethnicities, all have traveled unusual paths to get where they are today. Their stories will help you realize that 1) you just never know where you live choices will lead you, and 2) you have unlimited possibilities in how to show up in the world!
Monday Morning Magic Track
▪  April 13, 2020
▪  10 am to 12 noon
▪  It will be very different to get together without our frittata and snacks! So I hope you will all bring your own goodies for the call. The format will be the same, any subject can be talked about–same rules apply–and we need to give each other space and time to learn how to communicate with this new technology.

Click here to join us on Zoom for Monday Magic!
Growth & Transitions Track
▪  April 22, 2020
▪  7 to 9 pm
▪  We're sure to have a lot of things to talk about in this video meeting! We will have been sheltering in place for weeks, and we can share experiences, raise questions and generally help each other through this difficult time. Join us!!!
Click here to join us on Zoom at our next Growth & Transitions Track
---
Margery's articles for PRiME WOMEN….
Just to let you know, I have published 12+ articles in this online magazine over the past year. The first series of articles focuses on what really works for women–including how to figure out what you want and your life purpose. I recently started a second series on women and business. The magazine has a page for each author, Click here to go to my Author's Page
Check it out and subscribe!
Become a Member
Great Girls Network is our way of being the opposite of the Good Ol' Boys Network (which is still very much alive and well!). Even if you don't participate in Track meetings, your membership gives you a way to support our existence and be a part of a growing group of women who really appreciate each other. And the Trii-Annual Gatherings are unlike any other "networking" event! We know women don't network like men. We want to build relationships, we want deeper, more meaningful connections. That is exactly what GGN provides.
Our membership fee of $50 per year gives you access to our Track Meetings and also contributions to our Newsletter. The fee helps sustain our website, but it also ensures that when you participate in a Track meeting, you will honor the sacredness of the conversations because you are a member.
We created a digital card that helps people understand what they can get from joining GGN so click here to see the card.
Your membership helps give us that foundation, the strength to grow and have an impact on the lives of so many more women.
Great Girls Are Amazing Women!!! Thank You!!!
Hope to see you soon,
Margery Miller, founder Great Girls Network